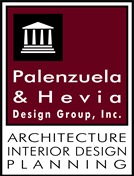 12201 S.W. 133 CT.
Miami FL 33186 US
www.phdesigngroup.com
Principals
Eugenio Palenzuela, R.A.
Mr. Palenzuela has been working in the field of Architecture for more than 23 years. Bachelors of Architecture, from Temple University in Philadelphia, Pennsylvania, in 1987. Obtained his license in Architecture & Interior Design from the state of Florida in 1998. He is a N.C.A.R.B. certified to obtain additional licences in other states as required. Mr. Palenzuela's Design and Construction Management experience includes shopping centers, retail stores, medical facilities, professional offices, restaurants, single and family housing, manufacturing warehouses and educational facilities.

Antonio M. Hevia
Mr. Antonio Hevia received his Bachelors in Design Degree from the University Of Florida School Of Architecture, in 1983. He began his career as an intern and Jr. draftsman with David Jay Feinberg, AIA., where he worked on various projects including retail stores, banks, restaurants, and hospitality facilities. As cofounder, principal and partner in the firm of Palenzuela and Hevia Design Group, Inc., Mr. Hevia shares responsibility for all aspects of the office's administration, staff supervision and training, as well as design, and the production of construction documents.